Are you looking for a place in El Paso where you can wind down and kick it with good company while experiencing a unique atmosphere, cocktails and delicious food? We took a tour of some local neighborhood patio bars to help you out.
Our first stop was Aceitunas Beer Garden, an Upper Valley staple for over 30 years with its shaded lagoon-like patio, wooden deck and famous koi pond. Aceitunas Beer Garden frequently hosts themed nights and live music. If you're getting hungry, we suggest an order from Big Poppa's food truck whose menu items are named after '90s hip-hop songs like Return of the Mac and Drop it Like It's Hot Fries.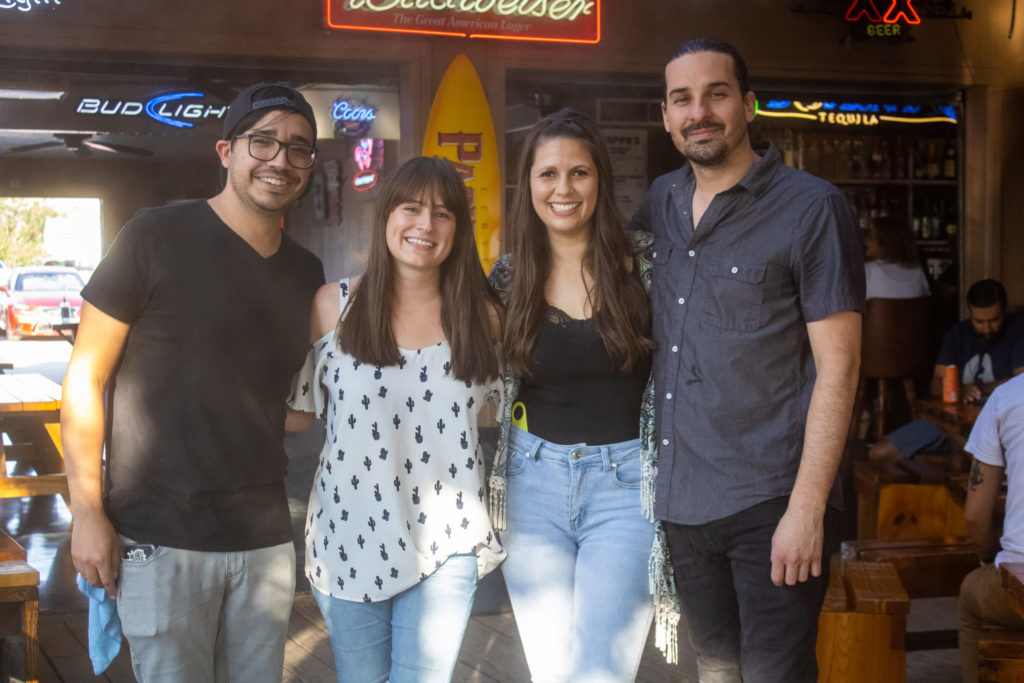 Our next stop was Goodtimes at 2626 located near UTEP in the Cincinnati Entertainment District where we enjoyed tunes from the jazz quintet, Speak No Evil. The bar often has live music on Wednesdays, featuring jazzy renditions of songs by groups like Radiohead, Gorillaz and Daft Punk. 
 While listening to music, you can order from their happy hour specials from 4 to 10 p.m. On the weekends, patrons can enjoy music from local DJs.
You won't have a hard time finding Goodtimes at 2626. Its large marquee on the corner of Mesa Street and Cincinatti Avenue displays quirky messages and murals by local artists EXIST 1981, Carly Ealey, and Christopher Konecki wrap the building.
If you're attending a game at Southwest University Park, take a stroll down Durango Street Bridge Pedestrian Walkway and enjoy a freshly brewed beer from DeadBeach Brewery.
One of our favorite beers on tap is their DeadBeach Lager, perfect for sipping on their patio covered in murals by a variety of local artists.
The microbrewery rotates its taps weekly and partners with local bars to carry its product. You won't leave empty-handed because you can purchase cans, bombers and growlers.  DeadBeach Brewery's kitchen is known for its BBQ, smoked meats, sandwiches, and brunch on Sundays.
Love Buzz, located in Central's Five Points Neighborhood just recently renovated its patio bar. They are known for their live music and for those that enjoy nostalgia, their Emo Night on Wednesdays.
However, if you just want to enjoy the night sky with friends, take a walk through their breezeway painted with the mural "Sunsets in Palm Springs" by local artists collective Thousand Grams Club. The patio has an outside bar and Valentine's Kitchen food truck, where you can order their tasty churros, ceviche, tortas, and tacos.
On the East Side, Benny Franks is another patio bar with amazing tacos and gourmet hotdogs. Located at 3041 N Zaragoza Rd. you can't miss its recognizable stacked shipping container design.
The downstairs patio has Jenga, jumbo Connect Four and fun bar games. You can bring your furry friends. Billie, a Golden Retriever belonging to the owners, might just join you for an authentic cocktail. The second floor's indoor bar provides a more nightlife-like atmosphere with a relaxed vibe and great music. Benny Franks has weekly specials and events like The Get Down, a backyard day party featuring the local DJ collective Feel Good Music alongside other nationally known DJs.
On this adventure, we barely scratched the surface of patio bars in neighborhoods across the city and county. If you're trying to visit patio bars in your neighborhood, check out the Patio Bars and Restaurants guide on Buy El Paso's Instagram.